Arenal Costa Rica Hotel
The Premier B&B in Nuevo Arenal
Unforgettable Arenal, Costa Rica Experience at Lucky Bug Bed and Breakfast
Enchanting Jungle Retreat: Discover our Arenal, Costa Rica Hotel and Experience Magical BnB in the Heart of the Jungle
Welcome to Lucky Bug Bed and Breakfast and Restaurante Caballo Negro, your haven of tranquility in Arenal, Costa Rica. With our on-site Lucky Bug Gallery and a delectable dining experience at Restaurante Caballo Negro, we offer an exceptional retreat unlike any other. Monika, the visionary behind this enchanting property, transformed her initial vision into reality, continually improving the premises.
What started as a house and barn to accommodate her daughters' horses soon evolved into the renowned Restaurante Caballo Negro—a beloved establishment cherished by locals and tourists alike. However, Monika's ingenuity didn't stop there. Seizing an opportunity, she converted the barn into a charming Bed and Breakfast, allowing guests to enjoy a delightful stay and savor mouthwatering meals at the restaurant—an idea that captivated many.
The accolades received by our Bed and Breakfast and restaurant stand as testaments to the unwavering passion and dedication poured into this endeavor. Our location serves as a gateway to the captivating Arenal area, conveniently situated between Monteverde, Rio Celeste, and La Fortuna. Whether you're seeking adventure, relaxation, or a memorable vacation, Lucky Bug Bed and Breakfast is the ideal starting point for your Arenal, Costa Rica explorations.
Explore our Little Slice of Paradise
Lucky Bug Bed and Breakfast Rooms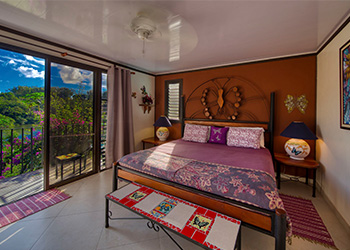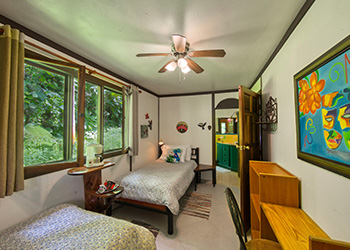 The Lucky Bug Gallery
Be sure to visit our gallery where you'll find beautiful, one-of-a-kind pieces from local artisans, souvenirs and treasures you won't find elsewhere.