Arenal Costa Rica Hotel
The Premier B&B in Nuevo Arenal
The best experience for an Arenal, Costa Rica hotel can be had at the Lucky Bug Bed and Breakfast
An Arenal, Costa Rica Hotel – Magical BnB in the Heart of the Jungle
When searching for an Arenal Costa Rica hotel,  the Lucky Bug Bed and Breakfast and Restaurante Caballo Negro welcome you to the most peaceful getaway you'll ever experience.  Come visit our Facebook Page or on TripAdvisor.  Lucky Bug Bed and Breakfast, with the restaurant and Lucky Bug Gallery on-site, along with Restaurante Caballo Negro, offers one of the best experiences in Costa Rica.
When Monika first came to Nuevo Arenal, she did not have a vision, but after a short period of time getting her feet wet, she began to build her vision to make improvements to the property.
First, the house was built along with a barn to house her daughters' horses and eventually came the restaurant.  She opened the Restaurante Caballo Negro, which is a staple for the area and is popular with locals and tourists
When Monika's daughters were tired of the horses, she had another idea.  Why not convert the barn into a Bed and Breakfast then people can stay and come to the restaurant to eat?  Great idea!!
This turned out to be a very popular step.  The B&B has won many awards over the years, as has the restaurant.  It has been a labor of love, and it shows.
This has ended up being a sort of gateway to the entire Arenal area.  The property is midway between Monteverde, Rio Celeste, and La Fortuna so if you are looking for things to do in Arenal, Costa Rica, this is the place.
Explore our Little Slice of Paradise
Lucky Bug Bed and Breakfast Rooms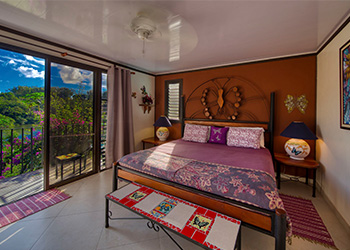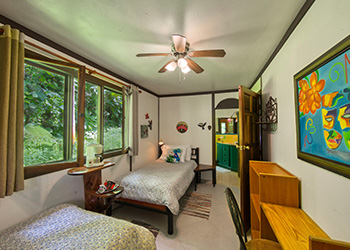 The Lucky Bug Gallery
Be sure to visit our gallery where you'll find beautiful, one-of-a-kind pieces from local artisans, souvenirs and treasures you won't find elsewhere.